Dec 9, 2021
Developed a system of watermarking function to ensure the uniqueness of NFT Discriminated digital data of legitimate route
No.1 Solutions, a blockchain development company, today announced that it has developed a watermarking technology that provides uniqueness to NFT (Non-Fungible Token) digital data, and filed a patent application in September 2021. The company plans to provide services related to the NFT marketplace equipped with the patent in January 2022.
■Rampant Reproduction of NFT-ized Digital Data
According to the report "Dapp Industry Report: Q3 2021 Overview" by blockchain analysis firm DappRadar, the NFT sector saw a transaction volume of $10.67 billion in the third quarter (July-September) of 2021, up 704 The NFT market is expanding every year. However, a current problem with NFTs is that they are replicable; because they utilize blockchain (distributed ledger) technology, it is believed that they cannot be copied or tampered with. In reality, however, NFT artwork can be easily downloaded by the buyer, and once downloaded, can be reproduced at will.
Even if the downloaded artwork is distributed, it is impossible to tell whether it is genuine or not. With current technology, it is difficult to tell if a work has been reproduced or not.
Watermarking the digital data itself ensures uniqueness.
The blockchain watermarking function we have developed allows NFTed digital data itself to be watermarked, making it unique. This ensures that there is no exact copy, including location information, and that the source of distribution of the NFTed data can be determined.
In addition, ownership of NFT is not considered to be conceivable under the current civil law and copyright law. With this function, the user who purchases the NFT can effectively have ownership of the NFT.
The blockchain watermark functionality includes
Add author information, comments, usage, etc. to digital data as meta-information (incidental information).
Files containing the hash value (a value obtained by replacing the original data with an irregular string of characters based on a specific calculation method) can be distributed.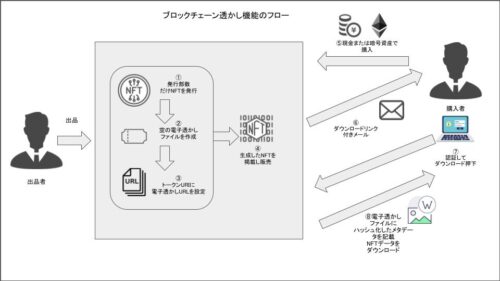 The flow to add blockchain watermarking functionality is as follows
1. issue as many NFTs as the number of copies issued
2. upload a metadata file created with an empty file_fash (file name)
3. set the URL of 2 to the token URI (synonymous with URL) for the number of copies issued
4. Post and sell the generated NFTs
5. Purchaser purchases with cash or crypto assets
6. send an e-mail to the purchaser to download the NFT data
7. Authenticate and download
8. insert hashed metadata into watermarked file and download
The blockchain watermarking feature can determine if it is a legitimate distribution channel. This technology can be used to handle digital data such as contracts and documents.
We plan to offer services related to the NFT Marketplace with watermark functionality in January 2022.
About No.1 Solutions, Inc.
Company name: No.1 Solutions, Inc.
Head office: Idemitsu Ikejiri Building 7F, 3-15-1 Higashiyama, Meguro-ku, Tokyo 153-0043, Japan
Representative Director: Tetsuo Menrai
Establishment : July 2002
Capital :50 million yen
Contact : TEL .03-6412-8470 FAX .03-6412-8471
URL : https://no1s.biz
Business : Blockchain system development, programming education for children, etc.
For inquiries from the media regarding this matter, please contact
No.1 Solutions, Inc. Public Relations: Kenji Domoto
TEL 03-6412-8470 / Email press@no1s.biz
Press release can be downloaded from here.
Developed a system of watermarking functions to ensure the uniqueness of the NFT
Identifies legitimate root digital data