Aug 8, 2019
Developed a local currency management system using blockchain technology and began offering it in September.
No.1 Solutions Inc., a blockchain development business, has developed "Coinity" a local currency management system using blockchain technology specifically for local governments, and will begin offering the system on September 2, 2019.
Low-cost implementation and more secure environment
Coinity is a token economy*1 building system that allows local communities to issue their own currency. The three features are as follows
1. low-cost implementation
Use of a generic template allows for low-cost implementation of a community currency system.
2. more secure environment
Login authentication by our blockchain authentication system BCAuth (patent pending) and coin generation by blockchain technology. Both of these technologies create a secure environment.
3. low-cost integration with other services
The single sign-on functionality of blockchain technology enables inexpensive integration with other services, such as messaging applications and shopping sites, within the Coinity application.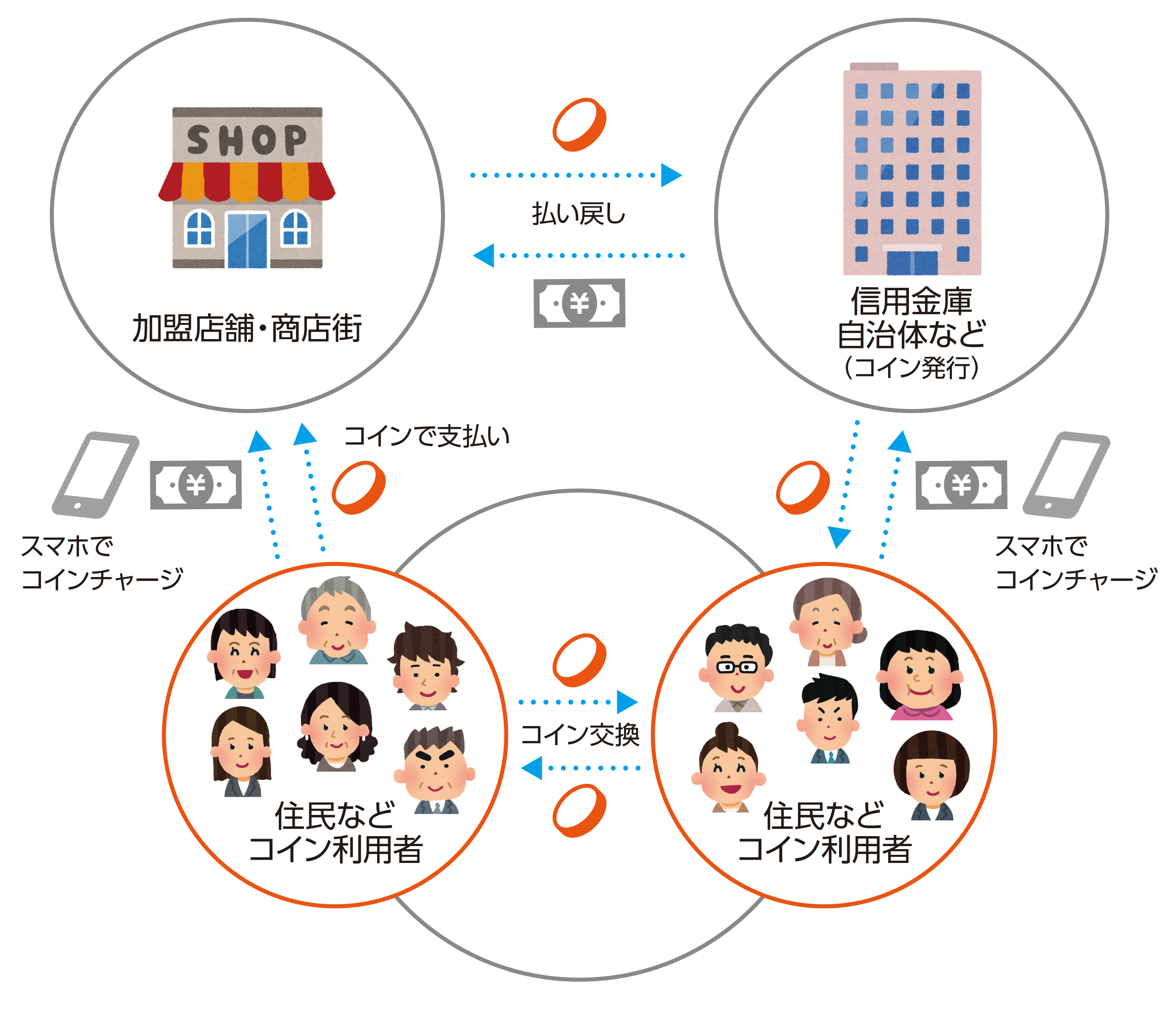 *1: Token Economy

The token economy is an economic sphere through tokens (digital rights certificates). It attracted attention because of the use of virtual currencies represented by Bitcoin and Ethereum.
Circulated as a currency that can be used on the Internet, virtual currency can also be used to purchase goods on shopping sites and in brick-and-mortar stores.

Municipalities and shinkin banks in the region that have introduced Coiniti can issue their own coins. To use the service, download the dedicated application to your smartphone from the App Store or Google Play. Coins can be stored (charged) in the dedicated app by purchasing coins from QR codes at shinkin banks and municipalities, or by purchasing prepaid cards at participating stores.

Coins can be used at participating stores and shopping malls in the same way as regular payments. Usage of coins by residents includes mutual exchange among residents for volunteer rewards, etc., and with travelers. Coins can also be sent by organizers to participants as participation prizes for municipally sponsored events or as rewards for local volunteers.
■Local currencies, which started as eco-money, have been re-ignited by the spread of smartphones.
According to the report "Local Currencies: Current Status and Future" (September 2018, published by the National Diet Library, Research and Legislative Review Bureau), many local currencies were created in the late 1990s and early 2000s. Initially, the main purpose was to provide "eco-money" as compensation for community volunteer work and other activities that were difficult to value with regular legal tender.
Since local currencies at that time were based on paper money, the labor and costs required for issuance, management, and redemption weighed heavily on the operating entities, hampering sustainable operation and development of local currencies and causing the boom to fade away.

Today, digital payments are used on a daily basis due to the widespread use of smartphones. With lower workloads and costs and more situations where they can be used, local currencies are once again attracting attention, with an increasing number of municipalities issuing their own local currencies, such as "Sarubobo Coin" (Takayama City, Gifu Prefecture) in December 2017 and "negi" (Fukaya City, Saitama Prefecture) in May 2019.
■Solving social isolation and securing financial resources for the community through local currency
There are three major challenges facing local governments. The first is a decrease in income due to a shrinking population. The relationship The third is a decrease in the number of participants in events hosted by local governments.
Local governments can solve these issues by introducing local currencies. There are three advantages
1. can resolve social isolation
According to the "World Values Survey" (OECD, 2005), Japan ranked first in the world in the percentage of respondents who answered that they "meet only occasionally" or "never" with non-family members, at 16%. According to the "White Paper on Health, Labour and Welfare, 2008," more than 70% of the respondents "would be willing to help people in need in their community.

Tamba City in Hyogo Prefecture, which issues a local currency, the "unmintu," states that local currency has the potential to solve social isolation because well meetings and settlement parties provide a good meeting place for local residents and returnees.
2. to be a financial resource used for the benefit of the local community and region, thus leading to community revitalization
For the same fee, funds flow outside the region when credit card payments are used.
3. Localized data can be collected and used as marketing unique to the region.
According to the report "The Usefulness of Local Currencies in an Aging Japan with Low Fertility" (published by the Research Institute of Economy, Trade and Industry in January 2017), local currencies may help revitalize communities and secure financial resources for the following three reasons.
It provides an opportunity for residents returning to their hometowns or moving into a closed community.

Local currencies that allow people to honestly express their gratitude will reestablish a system of mutual support.
By using a local currency to manifest the value of services and goods, local resources can circulate smoothly.
■Aim to operate in 50 organizations in 3 years
Issuing a local currency in this way has the potential to maximize the value of the community as a result, as local governments, stores such as shopping malls, credit unions, residents, and local natives mutually enliven the community with their love for their hometown.
By using blockchain, Koiniti can be implemented at a lower cost than when using a database. The on-premise version*2 of Koiniti can be operated with an initial cost of about 10 million yen (tax not included) and a monthly cost of about 300,000 yen (tax not included). The cloud version requires an initial fee of approximately 1.5 million yen (tax not included) and a monthly fee of approximately 100,000 yen (tax not included). Fees will increase as the scale of implementation increases.
Koiniti plans to link with existing payment systems, point services, coupons, etc., in accordance with the requirements of each municipality.
We aim to introduce Koiniti to 10 organizations (including demonstration tests) in one year, and to operate it in 50 organizations in three years.

*2: On-premise version
On-premise refers to the installation and operation of information systems, such as servers and software, in facilities controlled by the user (or company in the case of business use).
About Number One Solutions, Inc.
Company Name: Number One Solutions, Inc.
Head office: Idemitsu Ikejiri Building 7F, 3-15-1 Higashiyama, Meguro-ku, Tokyo 153-0043, Japan
Representative Director: Tetsuo Menrai
Establishment : July 2002
Capital :50 million yen
Contact : TEL .03-6412-8470 FAX .03-6412-8471
URL :https://no1s.biz
Business : Blockchain development business, education business, etc.

■For inquiries from the media regarding this matter, please contact
No.1 Solutions, Inc. Public Relations: Kenji Domoto
TEL 03-6412-8470 / Email press@no1s.biz

Press release can be downloaded from here.
Developed a local currency management system using blockchain technology and began offering it in September.