Jul 16, 2021
Trial Operation of Blockchain Voting System at CPAC2021 TEXAS
We conducted a test run of our Blockchain Voting System at CPAC2021 TEXAS, held in Dallas, Texas from July 9 to 11, 2021.
The Blockchain Voting System was co-developed with Libertry Ecosystem at CPAC2021 held in the U.S. from February 25 to 28, 2021.
Conducted a trial operation in cooperation with Libertry Ecosystem
In response to a request for cooperation from Libertry Ecosystem, we decided to conduct a test run of the Blockchain Voting System at CPAC2021 TEXAS.
The Blockchain Voting System was integrated into the existing polling system for the CPAC2021 TEXAS visitors.
The specifications of the Blockchain Voting System are as follows.
– Its data cannot be erased or overwritten, even by the administrator.
– Only the person who conducted the vote can confirm the result of his or her own vote.
– Voted data is recorded in the blockchain and cannot be tampered with even by administrators.
– The overall result and the individual's own vote (answer) are outputted from the blockchain can be checked only by the individual.
– The time of the vote (response) made is recorded, and the transaction data is made public on the web with personal information hidden.
Approximately 350 people participated in the Blockchain Voting System
350 of the visitors to CPAC2021 TEXAS answered the questions on our Blockchain Voting System.
In addition, on the third day of CPAC2021 TEXAS (July 11, 2021 local time), our employee went on the main stage to gave a presentation on the Blockchain Voting System.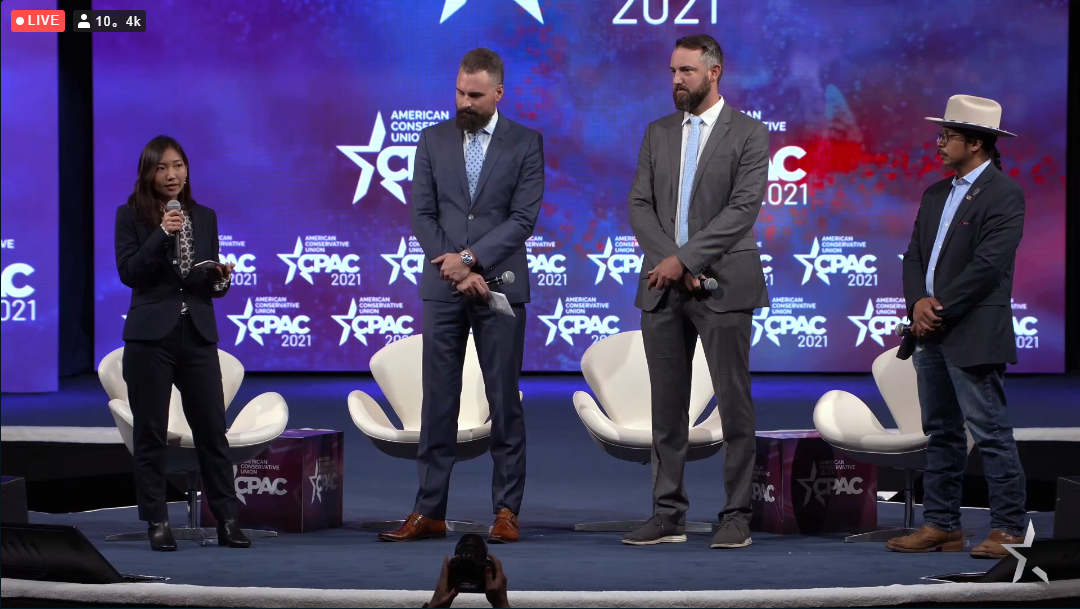 The woman on the far left is our employee
Expected to be used in future polls
The future development of the app is that it will be used in public opinion polls starting in the fall of 2021.
Features to be added include the ability to allow only users who have been individually authenticated in advance to participate, and the ability to vote from the app.
In addition, based on the results of this survey, we are considering expanding its use not only for public opinion polls but also for various other types of survey.
What is CPAC?
The Conservative Political Action Conference (CPAC) is the largest and most influential conservative gathering in the world. Launched in 1974, CPAC brings together hundreds of conservative organizations, thousands of activists, millions of viewers, and some of the world's most accomplished leaders.